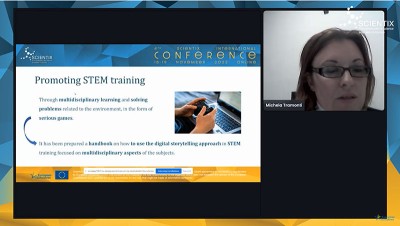 The 4th Scientix International Conference took place online on 18 and 19 November 2022. The conference provided an overview of the challenges and opportunities in science education in Europe and highlighted the potential and possibilities that the Scientix community can bring about. It also presented multiple opportunities to learn more about different STEM education projects in Europe, deepening connections, generating new ideas and inspiring science educators to foster creativity and enthusiasm for STEM education and share their expertise, knowledge, and best practices.
Around 1.200 teachers, educators, policymakers, science education researchers, STEM professionals, industry representatives, and project managers attended the conference, which featured 32 parallel talks on several STEM topics, 15 STEM projects presented in plenary sessions, eight hands-on workshops, two roundtable discussions focusing on EdTech transforming education and STE(A)M, respectively, and several keynote speeches.
In the framework of this event, EU-Track (Italy) presented THE BIG_GAME project in the parallel track 1 – STEM and Sustainability.